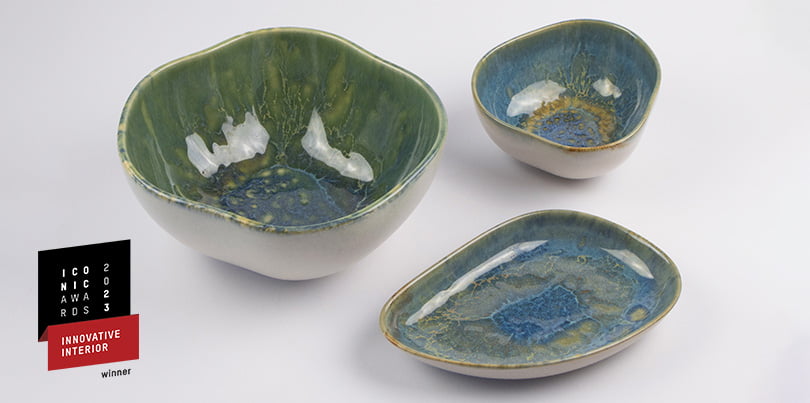 Fresh news at Mesa Ceramics.

Yuki returns with a new prize distinction. This time, our Yuki collection is distinguished with the Iconic Awards 2023: Innovative Interior.

The Iconic Awards are the Trend Indicator of Interior Design Industry and distinguish the best ideas and product design on what concerns to quality, ease of use, material selection, sustainable approach and intelligent solutions.

Yuki, as a tableware collection, gets honours due to its Japanese inspiration. It is an artisan set for serving all occasions, composed by chunky bowls and asymmetric plates overlapping shades of green from inside-out. The Iconic Award prize showcases outstanding products from great companies across interior design sector, selecting Yuki as the best tableware choice for lovers of innovative interior design.

Each piece is unique, which adds the innovative feature to this collection since the reactive glaze is complemented with the eco-friendly digital printing technology. Digital printing is a flexible technology that uses a very little amount of reactive paint per piece, with no waste associated to the production. The digital printing technology allows a decorated piece to go through a single firing process, reducing the use of resources to reach the final piece. The ecological footprint of each product is reduced by both the use of digital-printing technology and the single firing kiln. With unique shapes and look, Yuki is perfect for serving oriental and creative cuisine, while protecting the environment and preserving resources.

In addition to the German Design Award Special 2023, Yuki collection is now recognized as a brilliant option for interior design, adding that special eco-friendly touch to any tabletop and kitchen ambience. The outstanding mix of colours and mate glaze with shinny digital-printing décor, combined with the organic shapes, brings new elements and hints of innovation to the events and gatherings around any table.